Vegan, organic and natural yoghurt alternatives and desserts!
Sojade's tasty organic French soya alternatives to yoghurt, which can be found in the chilled aisle of your organic or health food store, will get you and your taste buds through the day! Not only are these delicious but also they bring many nutritional benefits as part of a varied diet. Therefore, all of our recipes are created using organic French soya, which has the nutritional benefit of being both high in protein and low in fat.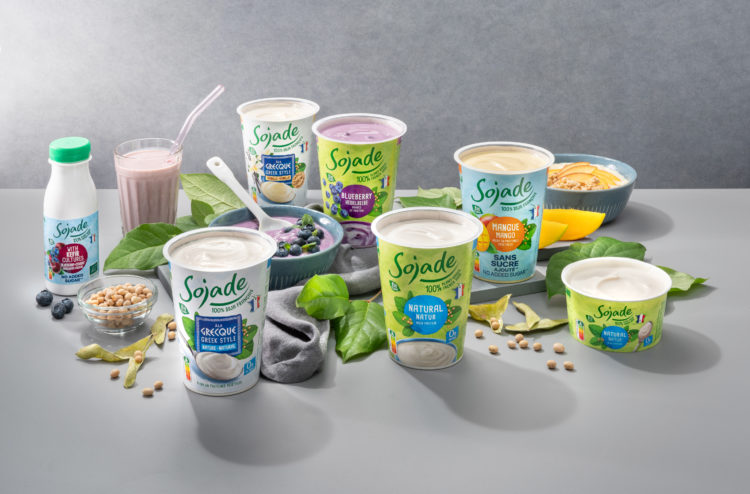 Delicious organic French soya
Our range of organic soya alternatives contains five families:
Natural soya yoghurt alternatives
These plant-based alternatives are sin free: no added sugar, no flavourings and no additives. They are simply made from the juice extracted from organic French soya to be enjoyed as a snack or added to your sweet and savoury dishes! They are the very essence of Sojade: simple, plant-based, healthy and natural.
Soya and fruit yoghurt alternatives
We only use whole organic fruits! Our "Les Prairies Savoyardes" site makes the fruit preparations that we use in our alternatives to yoghurt, in line with our commitment of keeping it natural and simple. Any flavourings we do add to complement the whole fruits are necessary, natural and organic, ensuring that our products are delicious, with preserved textures and tastes.
Soya and fruit yoghurt alternatives with No Added Sugar
In our endeavour to satisfy all tastes, Sojade has created a range of soya-based alternatives containing organic soya that are sugar free for those wanting to limit their sugar intake. We have not compromised on taste! Available in blue packaging, these products will not disappoint. They are delicious and completely sugar free.
Greek style soya yoghurt alternatives
Our creamy and mouth-watering Greek style soya-based alternatives can be easily identified by their white packaging to distinguish them from our natural and fruit products. These mouth-watering recipes are simply divine! They can be enjoyed straight from the pot or added to your recipes.
Fairtrade soya desserts
Our French soya vanilla and chocolate desserts are delicately flavoured using imported fairtrade ingredients. At Sojade, we guarantee a fair price for all of our network partners.