No more plastic lids is one of Sojade's commitment!
Since October 2019, Sojade has continued its commitment to achieve a positive environmental footprint by removing all the plastic lids from its 400g pots.
In addition, this initiative answered a global concern: 87% of European consumers are worried about plastic pollution.
By using 40% less plastic per pot, Sojade guarantees the removal of 60 tons of plastic per year!
Did you know? Sojade strives to become climate positive!
Read about our other main commitments HERE!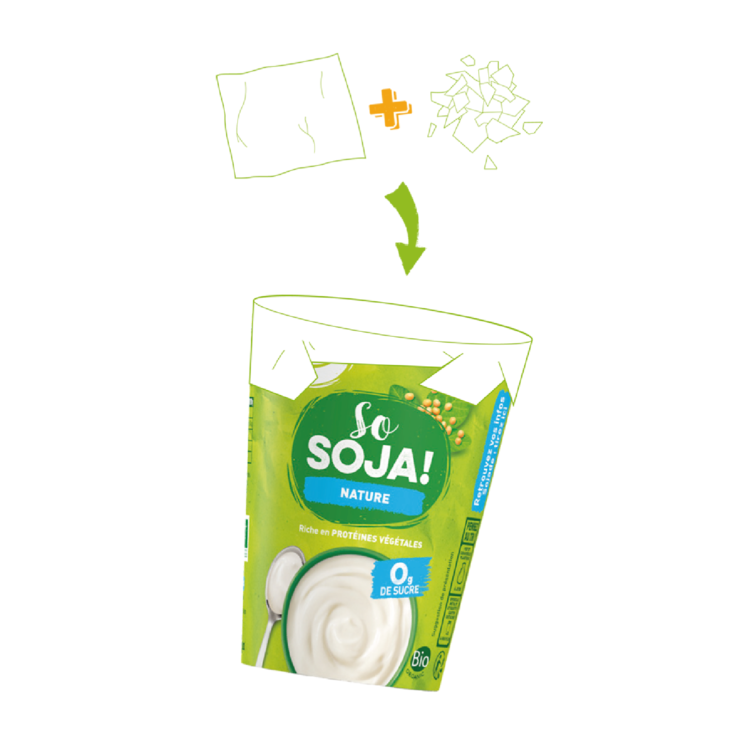 Materials
To make your own clingfilm, you will need:
– pieces of cotton fabric, not too thick, the size you want;
– soya wax chips ;
– white greaseproof paper.
Steps
Lay the fabric on a sheet of greaseproof paper.
Evenly spread some soya wax chips all over the fabric.
Cover the fabric with another sheet of greaseproof paper and iron on a medium setting without steam. Soya wax melts at around 40/50°. The fabric will rapidly become
If some areas of the fabric are not soaked with wax, add a few more chips.
Once uniformly coated, leave to dry for approximately 10 to 15 minutes, then remove the fabric.
To use your wax-coated fabric, place it on the food or container of your choice. Slightly heat up the wrapping with your hands to form the desired shape.
Cleaning
To clean your clingfilm after using it, simply use a soapy sponge and cold water (using hot water may
cause the wax to melt again). Do not wash it in a washing machine. The fabric dries quickly because it is waterproof.